Durango Wedding Transportation
Buck Horn Limousine is the #1 recommended Durango wedding transportation provider in the area. We offer wedding limousine and group shuttle service.

Durango Wedding Services:
Buck Horn Limousine offers traditional limousine service for weddings, events and special occasions. Point-to-point or Basic Car Service is not available for certain occasions
Designated Driver Shuttle Service for your reception guests
Wedding Limousine Packages
Airport Transportation
Interrupted Service, commonly requested by asking for "just a pickup and a drop off ", may not be available. A service fee of $150.00 may be charged for each vehicle if interrupted service is provided.
Formal Limousine Service includes:
Choice of vehicle
Cleaned and detailed car
Uniformed chauffeur
Crystal glassware
Bottled water
Ice
15-minute early arrival
Minimum of 6 hours of service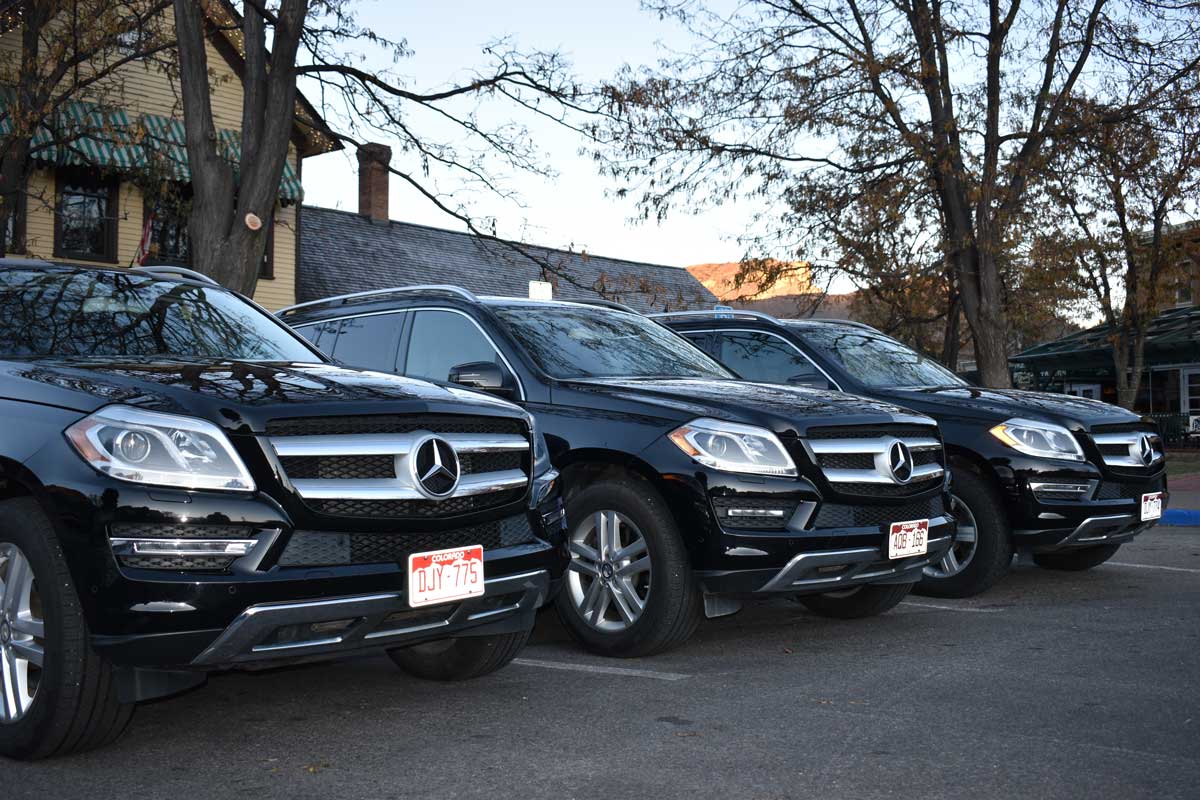 Weddings are a time for celebration and it would be wise to plan ahead. We book up every weekend through the summer season. We highly recommend that you appoint a transportation coordinator of your own if you are booking multiple cars to the wedding ceremony. Itineraries with guest lists involving multiple stops need direction from someone in your party.
Mercedes-Benz Sedan by the hour – $84.00 per hour (6 hour minimum)
Chauffeured transportation
Easy access for older guests
Cars seat up to 4 passengers
20% gratuity included
Time bills from garage to garage
Mercedes-Benz GL450 SUV $120.00 per hour (6 hour minimum)
Chauffeured transportation
GL450 seats up to 6 passengers
20% gratuity included
Time bills from garage to garage
Limited availability
7 Passenger Van by the hour – $108.00 per hour (6 hour minimum)
Mercedes-Benz Metris van
Chauffeured transportation
Perfect for guest shuttle
2019 Mercedes-Benz van seats up to 7 passengers
20% gratuity included
Time bills from garage to garage
14 Passenger Van by the hour – $134.00 per hour (6 hour minimum)
2020 AWD Ford Transit van seats up to 14 passengers
Chauffeured transportation
Perfect for guest shuttle
20% gratuity included
Time bills from garage to garage
Interrupted Service Option and Itinerary Change Fees
Each car has a six hour minimum. If you want to dismiss the car for several hours and have it return later we charge an Interrupted service fee of $150.00.
An itinerary change fee may be charged after the contract is submitted
Itinerary changes will be billed $25.00 per change
Time bills from garage to garage
* Most Durango wedding planners overestimate the number of guests who will be using the complimentary shuttle and limousine services provided for the guests. We have a total of four cars in our fleet. As a result, we may have cars available on stand-by should the demand for transportation exceed your expectations. Additionally, multiple car reservations have priority access to cars on standby.

Designated Driver Services
Times have changed. It is no longer acceptable to have a couple drinks and drive your car. DUI enforcement is very aggressive here in Durango and La Plata County.
Bachelor and Bachelorette Parties
We do not provide informal point-to-point rides for bachelor/bachelorette parties. Experience has taught us that these occasions tend to get rowdy and may result in damage fees and additional cleaning fees. Importantly, our chauffeurs want you to have a good time, but please remember, the chartering party is financially responsible for the actions of their guests. With this in mind, we suggest that you appoint one person in your group to communicate with your driver. You can relax and enjoy your evening while avoiding communication problems.
Common additions you might consider for your occasion:
Flower arrangement inside limousine
Champagne bucket and crystal flutes
Customer provided Champagne
Customer provided Music
You must supply your own alcoholic beverages. We only allow clear beverages in our limousines. Also, our cancellation policy for Formal Service is set at the time of booking.
To discuss your Durango Wedding needs, please call Alicia our Reservation Coordinator. She can be reached at 970-403-6222 during normal business hours. Remember we are on Mountain Standard Time.
Large Groups
There are no large shuttle busses in Durango. Our 14 passenger van is the largest vehicle available.  The most people that we can move at a single time is 31 passengers.
Booking Your Reservation
We prefer to correspond via email for all Formal Hourly reservations. A phone conversation or two is often necessary to understand your specific needs, and also gives us an opportunity to communicate on a more personal level. At the present time, charges for new reservations made within 30 days will be collected at the time of booking. Reservations made outside of 30 days will require a 50% deposit. As such, the balance will be charged the week of your event.  Payment can be made by check or charge. Please call Alicia at 970-403-6222 or email to [email protected]
Cancellation Policy
It is especially noteworthy that all wedding cancellations are subject to a 15% fee. Wedding cancellations within 48 hours are subject to a 25% cancellation fee.  Cancellations inside of 24 hours will be charged the full amount.
Damages
Furthermore, damages to our vehicles or equipment will be billed to the chartering party. For this reason, we will charge a basic clean up fee of $350.00 if necessary. Any physical damage done by the chartering party or their guests will result in an additional assessment for professional cleaning, repair, replacement, parts and labor. Lastly, you are financially responsible for the actions of your guests.
Just starting in your Durango wedding planning?  Check these Durango Wedding Vendors. We love The Knot's wedding resources.